DONALD CARR
The last close link to our extended family in Canada
My grandfather, Donald Carr, was born in Suffolk, England on 25th November 1916, during the middle of the Great War. At the time his father, John Carr, was serving with the Canadian Expeditionary Force (CEF) on the Western Front. His particular story can be found in the Ancestry section under his name.
My grandfather should really have been born in Canada. His parents resided there in the town of Woodstock, Ontario, before my great-grandfather enlisted with the CEF. With her husband absent and fighting in the trenches, my great-grandmother took ship and travelled to her family in Suffolk to give birth.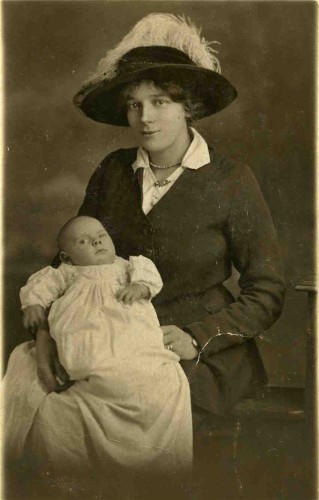 Donald Carr with his mother Agnes Carr (nee Knights)
She made the dangerous crossing of the Atlantic, which carried the very real risk of being torpedoed by a German U-Boat. I am not quite sure why she made the decision to come back to England at that point, but I have heard on the family bush telegraph over the years that she did not get along with many of the Canadian Carr's and was additionally getting homesick for Suffolk. Without her husband, understandably she may have felt somewhat lonely and isolated in Canada.
At the end of the Great War the family returned to Canada and settled back into life in the town of Windsor, Ontario. My grandfather grew up in Canada but returned to the UK prior to the outbreak of World War Two, and moved to London from Suffolk to find work. He was working as a barman when he met my grandmother.
They married in August 1939, war was declared on 3rd September of that year and not long afterwards, my grandfather was called up for military service. He served with the RAOC (Royal Army Ordnance Corps) and having been enlisted as a Private soldier, rose to the rank of WO1 (Warrant Officer First Class) by the end of hostilities.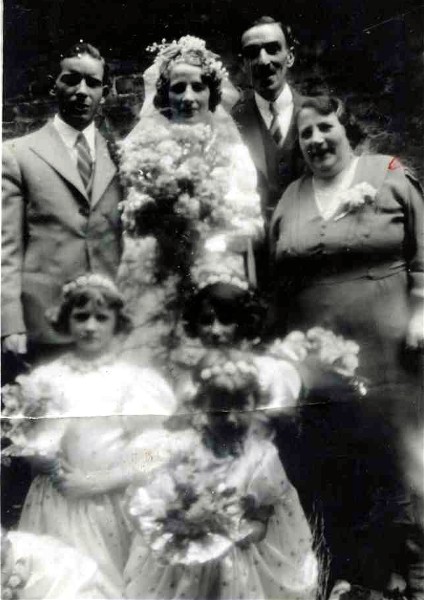 Donald Carr and Elsie Carr (nee Nichols) on their Wedding Day
To the right are Jack Nichols and Jessie Nichols (nee Donaldson)
He spent his last days in the army out in India, mainly at Agra, as the last embers of the Raj began to cool and extinguish. He caught amoebic dysentery whilst in the sub-continent that nearly finished him off, but fortunately he fully recovered. That was of course lucky for me, as otherwise I would not be here today.
He did not leave the army until 1946, long after most of his fellow soldiers were demobbed. Evidently he was very good at his job and the army made full use of his services for as long as they could. When he did eventually get back to England, he was asked by many people on the street, sometimes forcefully, why he was still in uniform, as the war in Europe had been over for almost a year. It seems that people did not want to be so starkly reminded of the war years in such an immediate way.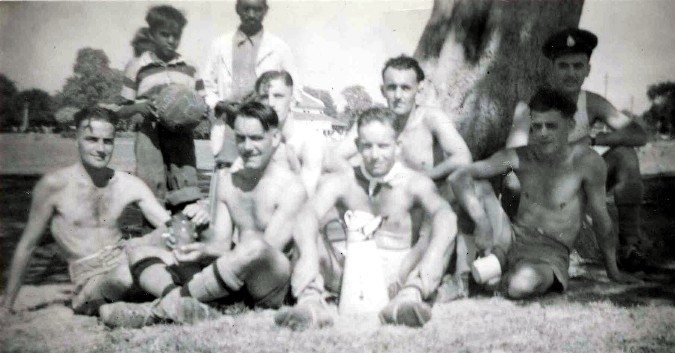 My grandfather -Donald Carr - (seated centre facing camera) in India on 5th November 1945
I often had long conversations with my grandfather about his military service. I too have served with the British army and strangely enough, in the more modern form of the RAOC, the RCT (Royal Corps of Transport). This has now become the RLC (Royal Logistical Corps). That change of name occurred not long after I left the army.
During the course of our conversations, it was amazing to discover just how little military life had altered between the time of my grandfathers service and my own. It does seem that some things in life never change down the years, military service being one of them. Of course there are modifications over the years as society changes, but the fundamentals remain constant.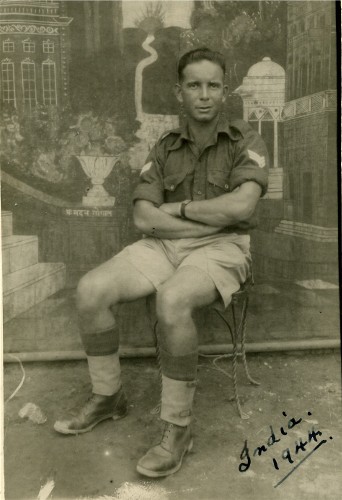 Donald Carr in India 1944
I believe my grandfather with that wonderful thing called hindsight, would have opted to have remained in the army after the war, as he was offered a commission if he did stay in. But I guess that after so many years away from home and family, it was understandable that civilian life held greater attractions. If he had remained in the army, his life would certainly have taken a completely different tack and possibly a personally more rewarding one for him.
After being demobbed, my grandfather took up a few middle management positions with various companies and ended his working life at a large precious metals refining company. They too were very sorry to see him go and I know that he enjoyed his time with that particular company.
He made one final visit to Canada in 1990 and on that occasion I was able to accompany him. We stayed with our Canadian relations in Windsor, Ontario and Saskatoon, Saskatchewan. We also had a road trip through the Canadian provinces of Saskatchewan, Alberta, British Columbia and the American states of Montana and Idaho.
It was wonderful for my grandfather to touch base with the extended family once more and it was also wonderful for me to meet them for the first time.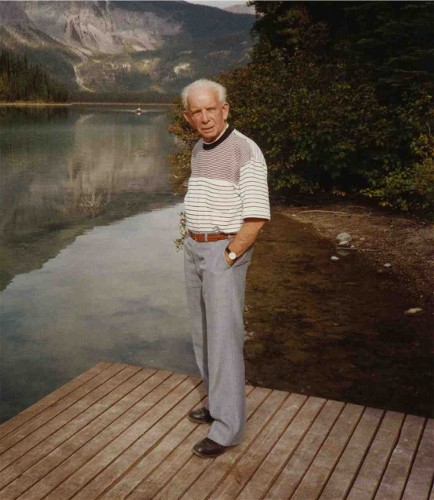 My grandfather in Canada September 1990
My grandfather enjoyed an active retirement in the London suburbs but sadly died suddenly and unexpectedly of a massive heart attack in 1991. Up until that point he had led a full and happy life, with golf being one of his great passions. He also used to like a punt on the horses, but just minor sums of money for some added interest in the racing.
My grandfathers generation witnessed so many social changes during their lives. Being born during the Great War, the Roaring Twenties, the Great Depression of the 1930's, the horrors of World War Two, the advent of nuclear weapons and the Cold War, the white heat of economic growth during the 1960's, Rock 'n' Roll, The Beatles, Hippies, Flower Power, the stagnation of the 1970's, Punk Rock and Goth, the Falklands War and the 'Greed is Good' years of Margaret Thatcher and the Tories during the 1980's, the fall of the Berlin Wall in 1989, to the beginning of the Great Recession that killed the ephemeral Tory economic bubble in 1990.
They lived through momentous times of change and revolution that shaped the world we live in today. Is it the kind of world they fought for in the 1940's? Somehow I can't help thinking many of them must have been sorely disappointed and disillusioned with it all in the end.
©Copyright - James of Glencarr