EDWARD JAMES
The life and times of a Northumberland Miller
Edward James, my 4th great-grandfather, was born in the small village of Whalton, which is situated a few miles south-east from Morpeth in Northumberland. He was baptised in the local parish church on the 30th April 1780. The village today is still barely more than a hamlet and is as it always was, a rural, agricultural community. It still hosts an annual Bale Fire on July 4th, the date on which midsummer's eve was celebrated before the introduction of the Gregorian calendar to England in 1752.
He grew up in Whalton, where he learned the trade of Miller, most likely from his father, although at this point, I have yet to confirm that positively. By 1806 he had moved his residence to the city of Newcastle upon Tyne, where he carried on his trade of Miller. In 1801 Newcastle upon Tyne had a population of 33,322, but as an expanding industrial city the population grew rapidly. By the time of Edward's death in 1857, the population of the city had reached about 82,000 persons. It is quite obvious why he relocated to the city, the market and demand for bread was growing and there was good money to be made.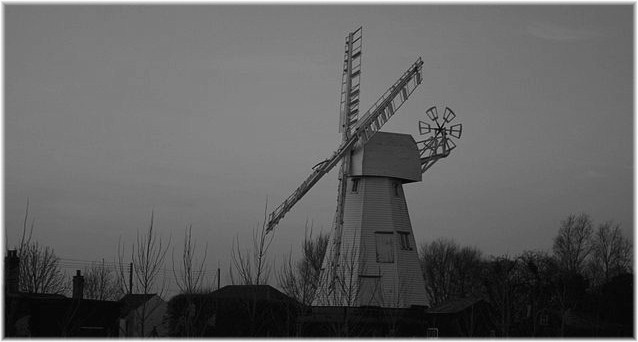 A typical windmill of the 18th century
On 27th April 1806, Edward married Ann Watson from Borrowstounness, Linlithgowshire, Scotland, I believe in the parish church of All Saints in Newcastle upon Tyne. The next official record of him I have is the 1841 census, which has him living at 18 Gibson Street and his occupation is confirmed as a Miller.
He next appears in the 1851 census living at 20 Richmond Street and despite his advanced age, is still listed with the occupation of Miller. Listed at the same address is his wife, Ann, his daughter, Frances and his 12 year old Grandson, Edward Robson, who is noted as being an Apprentice. He is obviously learning the trade of Miller. Edward's youngest son, Joseph, born in 1822, is already a Miller in his own right by this time. He dies a wealthy man in 1882, leaving a significant estate.
Edward's wife, Ann, passed away on 21st September 1853 at their home in Richmond Street. She had suffered from cholera for two days and at the age of 70, she really had little chance of survival. Her death was attended by her son William, who at that time was living at Park Hall Lodge, Gateshead.
In 1852/53 there was a terrible epidemic of cholera in Newcastle, so bad in fact that the government of the day commissioned an inquiry into it. At one point, 1,500 people died of cholera in the space of just nine weeks. That wasn't the only epidemic to afflict the city. Between 1839 and 1853 there were many others, including, Scarlet Fever.
Edward lived on for another four years and at some point between 1853 and the time of his death, moved his residence to 18 Gibson Street, where he passed away at the age of 77. The official listed cause of his death was 'Diarrhoea 15 hours', but of course that must have had an underlying cause, probably either bad water or bad food. Given the symptoms, I strongly suspect that Edward may also have fallen victim to cholera.
The manner of the deaths of Edward and Ann left me with a sense of sadness. After living such long lives for the era, they deserved more dignified ends. Unfortunately, Newcastle upon Tyne was a pretty fetid, rank place by the middle of the 19th century and such deaths were far from uncommon.
I am not exactly sure where Edward and Ann are buried, but I believe it may well be in the parish church of All Saints.
©Copyright - James of Glencarr