EDWARD THOMAS JAMES
The life and times of a Travelling Showman
Edward Thomas James was born in the town of Basingstoke, Hampshire on the 28th May 1847. He was the first born son of Edward Smith James and Anna Waldren. Edward senior at that time was a Locomotive Engine Driver on the railway, one of the working class elite. Edward's birth was registered on the 27th June of that year, although interestingly, his birth certificate does not carry a Christian name. That part of the certificate has been left blank. I have no idea why there was a delay in naming him, especially given at that time, it was traditional for the first born son to be given the father's Christian name as a matter of course.
By 1851 Edward was living with his parents in the city of Norwich, Norfolk. I would surmise that the relocation occurred as a result of his father's work. The railway did not reach Norwich until December 1849 and it seems quite likely the family moved to Norwich at about that time.
In 1851 a sister, Frances Emma, was born. At this point the family was living in Grove Place, Lakenham, Norwich. In 1853 a brother, William Joseph Charles was born. By this time the family were living at Newmarket Road, Higham, Norwich. In 1855 another sister, Catherine Anna Smith was born. The family had now relocated again to Eagle Lane, Higham, Norwich.
At some point between 1855 and 1861 the family moved from Norwich to Lambeth, Surrey. It is in 1860 that this story takes a mysterious turn. It is said that Edward the locomotive driver died in Norwich in 1860, but I can find no record of his death or the manner of it there, and I am in no way persuaded that he did meet his end in 1860. It may have been a case of spousal abandonment, which did occur far too frequently in Victorian England, but I do not want to tar Edward with that brush without any kind of proof.
What I do know for sure, is that in 1861 another brother, George was born. At this point in time, I have been unable to find the birth record for George but his place of birth is listed in the census returns as being either in Pimlico, Middlesex, or Battersea, Surrey. This is a key document as it may list his father as being deceased. If it does state that fact, then it will give credence to Edward Smith James dying in 1860 and I can concentrate on finding a death certificate for him. If not, it would give added weight to another cause of his absence and the family's relocation to the London area.
At the time of the census of 1861, young Edward is listed as living at 150 South Lambeth Road in Lambeth, Surrey. That area today forms a part of the London Borough of Lambeth in south London. At the age of 14 young Edward is already working and holds the position of Railway Odd Boy. The railways are a continuous feature of our James family history and various branches of the extended family are connected with them in one way or another.
At some point between the census of 1861 and 1871, Edward's mother and siblings have relocated back to Basingstoke in Hampshire. For his mother Anna, it is a return to a town well known to her and where most likely she has family. Anna James nee Waldren passed away in Basingstoke in 1893 at the age of 70, as recorded on her death certificate. The cause of Anna's death was acute bronchitis, which she had suffered for a period of four days.
On the 14th October 1866, Edward married Johanna (Hanna) Canty at Christ Church, Battersea, Surrey. Anna was of Irish extraction and her father, Michael Canty, is listed as being a Labourer. Johanna was unable to read or write and simply made her mark on the wedding certificate. Edward is also described as being a Labourer, so he had obviously left the employ of the railway. It is also pretty obvious at this point that he has already become a Showman, the first of the direct paternal family line to be positively identified as such.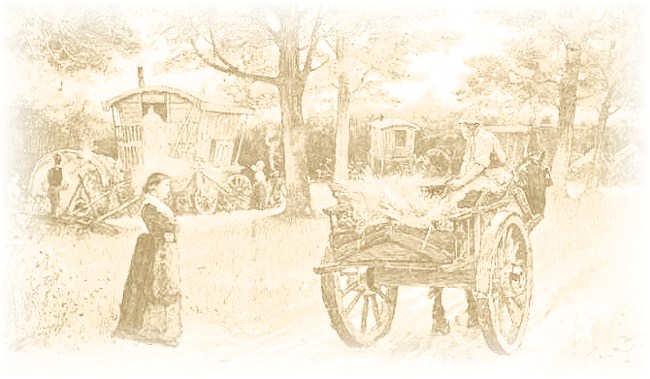 An encampment of Travelling Showmen by the roadside
At the census of 1871 we find Edward and Johanna living in Basingstoke, Hampshire and it appears they moved there around 1870/71, as their son, Edward, was born in Battersea in 1870. I know the Fair settled in Basingstoke over the winter period, so that would explain their presence in the town. His mother and siblings were also located there. It does seem likely that his mother was of travelling stock. In the census record returns Edward is listed as being a Bricklayers Labourer. During the off-season for the Fairs, Travellers would find alternative employment and would travel around for it.
By 1871, Edward and Johanna have two children, Ann born in 1867 and Edward born in 1870. Both children were born in Battersea, Surrey. At the 1881 census, Edward and Johanna – who is listed on the census form as Hannah, are once again living in Battersea, Surrey. The family are lodging at 36 Knowsley Road, Battersea and Edward is described as being a Lodger and has the occupation of Bricklayers Labourer. The family has also grown and they now have four children, Hannah (previously listed as Ann), Edward, George and William, who was born in 1880.
At the 1891 census I found Edward boarding at an address in Aldershot, Hampshire. However, I have been unable to find details for his wife and children. He is still described as being a Bricklayers Labourer, so it would seem that he has been on the road seeking work whilst the Fairs have been in hibernation for the winter period. It is possible that his family were on the road at the time of the census, and thus avoided inclusion in it.
I cannot find any records for Edward and his family in respect to the 1901 census, so it seems likely that the family were travelling at the time, and did not get included on it. One of the real problems in trying to track Travellers through official records is simply that they travel. Because of that, they can be very elusive indeed and extremely difficult to find.
I do have a record of Edward's son, also called Edward, who in 1901 is located at Crown Wharf caravan encampmant in Erith, Kent, with his wife, Kathleen and their then three children, Edward, Kathleen and William.
Johanna James nee Canty, is supposed to have passed away in 1894 but as of this time, I have been unable to verify that assertion. I am continuing to look into the possibilities and hope to strike lucky at some point. Tracking the movement and records of travelling folk is never an easy task.
Edward passed away on the 18th September 1928 at 77 Swaffield Road, Battersea. This address was a workhouse and Edward died in the hospital section attached to it. To the best of my knowledge he was never an inmate of the workhouse. On his death certificate he is described as, 'formerly a stoker at electric power station', a hard physical job. His cause of death was described as being from aortic heart disease. He was 81 years of age when he died, not a bad span of years for those times.
©Copyright - James of Glencarr