GEORGE CARR
Estate Manager, Soldier and Canadian Citizen
George Carr was born in the village of Nacton, Suffolk in 1863, the son of George Carr the noted 'Engineer of Felixstowe' and his wife Harriet Carr nee Cullum. He grew up in Felixstowe, Suffolk. The family at that time resided at Priory Farm, which lay on the outskirts of the town in a rural setting, leading towards the old golf links and the Felixstowe Ferry.
In the census of 1881, he is listed as holding the occupation of Gamekeeper, this would have been on the Orwell Park Estate where his father was the Shore Ranger and Estate Manager for Col. Tomline MP, and later The Hon E.G. Pretyman. After the death of his father in 1908, young George took on the mantle of Estate Manager until he and the family took a giant leap of faith by moving to Canada.
George grew up in a close and devoutly Christian family and in 1885, he and his father, along with a group of other good Christian men from all walks of life, took out a lease for the Gospel Hall in Orwell Road, Felixstowe.
George Carr worked closely with his father on developing the sea defence works in Felixstowe, and they were responsible for much of the sea defences and river walls around the town. Their contribution to the later economic growth of Felixstowe is unquestioned and it would not be the place it is today without their pioneering work.
He was a natural athlete and played both football and cricket for Felixstowe and Walton teams, he also excelled in running, jumping and cycling and won many competitive cycling awards, including the J.M. Wade Challenge Cup in 1897, which he won three times in a row and kept the trophy as a consequence.
He was married in 1884 to his childhood sweetheart Eliza Branch, who lived at Grape Vine Cottage in Old Felixstowe. It was a blissfully happy marriage that lasted well over fifty years. Long marriages do seem to run in the Carr family.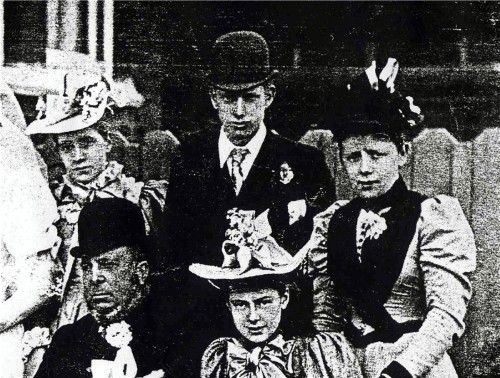 Young George pictured centre in around 1895, with his wife Eliza to the left
When asked in later life, on the occasion of their 53rd wedding anniversary, what the secrets to a long and happy marriage were, they replied, 'that you love each other, you are suited to each other, you have to bear and forbear, think enough of each other to stick together and finally, don't be selfish'.
In 1888 a son, their first child, was born to George and Eliza and they named him Albert George. Tragically though, little Albert was destined to have only a short span of years and died in 1890, the same year that their second son, John Leonard was born. It must have been a terrible time for the family, especially given the circumstances of of young Albert's death. It appears that he got out of bed sleepwalking one evening, went out of the house and fell into a dyke where he drowned. His death, after a formal inquest, is recorded as being 'accidental death by drowning'.
I am not sure at what location the death took place, put it must have been by the sea and marshes and my best guess would be Priory Farm. When the family moved to 91 Queen Street in Walton, the house was called 'Albert Villa' in memory of the little boy. The house is no longer there as along with the other terraced houses in the street, it was compulsory purchased by the local authority and demolished so that a social housing development could be erected.
In 1912 George and the family took ship to Canada, something that is entrenched in the Carr family blood it seems. They settled in the town of Woodstock, Ontario, where he found employment with the Woodstock City Council.
In 1916 as the Great War began to unfold, like his son John, he enlisted in the Canadian Army and was attached to the 168th Battalion. However, he declared his year of birth as being 1871, making him 45 years of age, in order to enable him to serve on the battlefields of Europe, as those over the age of 45 were not sent to fight in the trenches.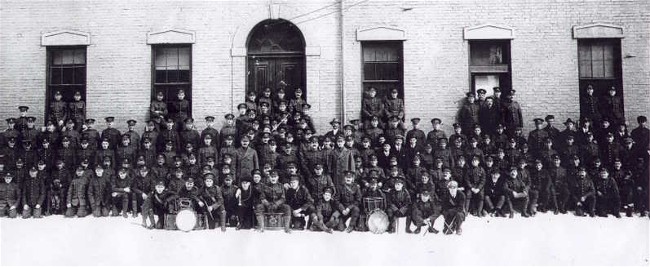 Men of 168th Battalion at Camp Borden in 1916
click on the image above for George's Attestation Papers
His real age of 53 was discovered at Camp Borden and he was refused permission to take ship to England. However, he was determined to 'do his bit for his country' and he was re-enlisted with a new service number and sent to the Canadian/American border at Windsor, Ontario, as a military policeman. He saw out his wartime military service in Windsor and left the army in 1918.
It is amazing to many people of this modern, cynical age, just what a sense of duty people of George's generation felt towards their nation, their Empire and their King. It is a reminder of a world that has all but disappeared nowadays. A firmer set of morals and values existed back then, life was more black and white and less infected by the greed of shallow materialism. In the rush to progress, society seems to have regressed in far too many ways, and spirituality has given way to greed and selfishness and a lack of concern for ones fellow men.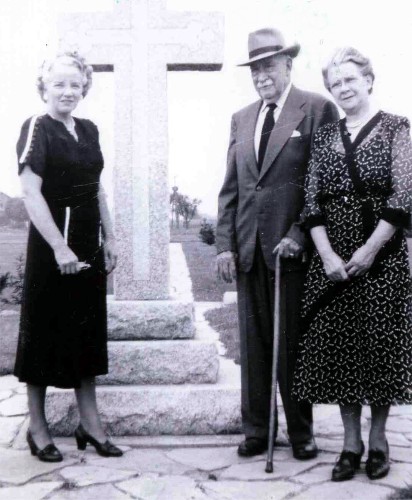 Young George pictured in later life, in Windsor, Ontario, Canada
After the war, George and the family settled in Windsor on Sandwich Street West, and he found work with the Canadian War Veterans Office where he remained until his retirement. He enjoyed thirty years of active life after he retired, where he was able to devote much more time to his great passions of poetry and gardening.
He passed away peacefully at his house in Windsor on Saturday 10th January 1959 at the grand old age of 96, having seen so many of the worlds great events unfold during his lifetime. He was a determined and fascinating man with an interesting and fascinating life story to tell. I find him to be an inspirational character on many levels.
To up-sticks and take the family to Canada at the age of 49, leaving behind a firm career takes some real courage and self-belief, as does lying about ones age in order to volunteer for military service and serve king and country on the Western Front.
The source of comfort and strength he found in his strong Christian faith also provided him with a firm foundation, it is something that has been lost in the modern world where everything is open to question and debate. We have seemingly sacrificed simplicity for complexity and it is little wonder that stress and anxiety are the pandemics of the developed world we have created.