GEORGE CARR
Shore Ranger and Sea Defence Engineer of Felixstowe
George Carr was born in the village of Nacton, Suffolk in 1834. His parents were Robert Carr, who was born in 1811 in the village of Ufford, and Mary Carr (nee Rufford) of Nacton.
Robert Carr, his father, was a farm labourer like most of the workers in the area at that time. At the beginning of the 19th century, Suffolk was still a very rural county with a rustic lifestyle, oozing an image of the kind of gentle Arcadian idyll that modern 'chattering class' seekers of an escape to a life in the country swoon over.
However, real life is never like that and the life of an agricultural labourer in the early 19th century was certainly not an easy one. It consisted of long hours of sweat and toil in the fields and did not command a princely sum as remuneration for that hard labour.
The father of Robert Carr, also called Robert, was a Wheelwright by trade and I have no idea why his son did not follow in that particular calling?
I suspect however, that there may have been a rift in the family, some possible 'bad blood' between father and son. At that point in time it was traditional to call the first born son after the father and subsequent sons would then carry other common family names, such as that of the grandfather for example. In the case of young Robert Carr, none of his male children carried that name forward, it may have been a pointed snub to his own father? A rift would certainly explain his not taking on a much better paying trade that had to be passed on by his father, and falling back upon earning a meagre living by agricultural labour.
The Carrs up to that point had by tradition been Carpenters and workers of wood, indeed, the Great Bealings branch of the family carried on that tradition, and may even do so to this day.
Despite his humble beginnings, George Carr achieved many things in his life and rose to a position of great respect and standing within the Felixstowe area. This is even more of an achievement when one considers that he was illiterate, something which was not unusual amongst workers of the time.
George began married life when he wed Sophia Woods from the Parish of Foxhall on the 9th August 1857 at St. Martins Church in Nacton. Sophia was born on the 27th April 1836 to James and Mary Woods of Foxhall. Tragically this marriage did not last long for within three weeks of the wedding Sophia had died. She passed away on the 28th August 1857 and was buried on the 31st August. It must have been a bitter and heartbreaking blow, not only for the young George but for both families.

The burial entry for Sophia Carr aged 21 years on 31st August 1857
There is a whiff of intrigue attached to this marriage as it would appear that Sophia was not far off giving birth when the wedding occurred. She must have been heavily pregnant on her wedding day. A son, George Carr, was born but died on the 23rd November 1857, aged 3 months. The death certificate states the cause of death as being 'congenital disease from birth'. Poor little mite. I can find no birth certificate or baptism record for him.
The conclusion is that poor Sophia died whilst giving birth or from complications thereof. On her death certificate it is recorded under the cause of death, that she had suffered 14 hours of puerperal convulsions and had been in ill health for some time prior to her passing away. Puerperal Fever is usually caused by the kind of poor hygiene that existed at home births in those days and often led to Sepsis, basically blood poisoning.
Sophia was just 21 years old when she slipped away from life, a tragically short time to have lived. It leaves one with a feeling of deep sadness for a life cut short and for a death in such horrible circumstances. Puerperal Fever is thankfully rare in birth these days and where it does occur, can be successfully treated.

The parish register entry for the wedding of George Carr and Sophia Woods on 9th August 1857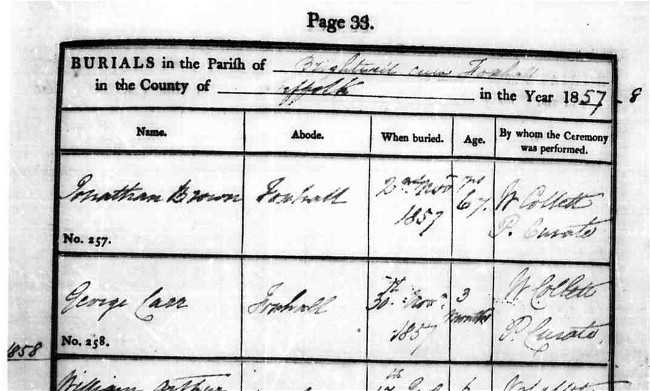 The burial entry for George Carr (aged 3 months) on 30th November 1857
On the 26th May 1862, George Carr married again, this time to Harriett Cullum at St. Martins Church in Nacton, where he is described as being a Labourer and his wife a Spinster, as was common far all single unmarried women at the time. Interestingly, they were married by the same clergyman who had married George and Sophia five years previously, and at the same church.

The parish register entry for the wedding of George Carr and Harriett Cullum on 26th May 1862
By 1857 George was described in official records as being a 'Stone Dredger', obviously something to do with the waterways. On 13th March 1869 he was appointed as Shore Ranger - effectively the Estate Manager - on the Orwell Park Estate around Felixstowe, which was then owned by Col. Tomline, the extremely wealthy local MP. He continued working for the estate when ownership passed to Mr E.G. Pretyman, a kinsman of Col. Tomline, after his death. He too thought very highly of George and recognised his innovative nature and undoubted organisational skills.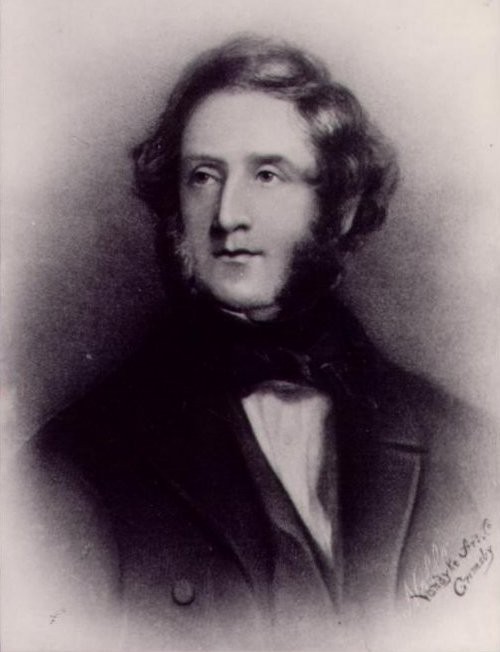 Colonel Tomline
Such was the esteem in which George Carr was held, that Col. Tomline bequeathed to him a significant sum of money in his Will, as shown below.
On 9th December 1889, the Illustrated London News carried the following report:
COLONEL TOMLINE'S WILL
The will (dated May 13th, 1889), with a codicil (dated August 2nd) following, of Colonel George Tomline, J.P., D.L., formerly M.P. for Sudbury, afterwards for Shrewsbury, and subsequently for Great Grimsby, late of No. 1, Carlton House Terrace, of Orwell Park, Ipswich, and of Riby Grove, Lincolnshire, who died on August 16th last, was proved on December 9th by the Rev. Frederick Pretyman and William Joseph Jarrett, the executors, the value of the personal estate amounting to upwards of £353,000. The testator bequeaths £5,000 each to the Rev. Frederick Pretyman, Colonel Ronald Lane, Colonel Cecil Lane, Viscount Dungarvan, the Hon. Robert John Lascelles Boyle, and the Hon. FitzAclelm Alfred Wentworth Boyle; £1,000 each to his executor.
Mr Jarrett, Robert Milnes Newton (police magistrate), Henry Smith (his agent at Orwell), and William Dodds (his agent at Riby Grove); £500 each to his butler (Henry Naylor) and his valet (W. Howard), and annuities equal to the amount of their wages; £500 each to George Burrows (the captain of his yacht) and George Carr (shore ranger at Felixstowe); £300 to Wallis, his gardener; one year's wages to each of his other servants; and £100 each to the East Suffolk Hospital and the Convalescent Hospital at Mablethorpe.
The pictures, sculpture, plate, and furniture at his mansion-houses at Orwell Park and Riby Grove, and the jewellery, &c., deposited at Coutts's, are to be held as heirlooms with the said mansions. His town residence and his freehold stables in Wells street and Babmay mews are directed to be sold, and the proceeds to go with his residuary personal estate.
Orwell Park and Riby Grove, and all his freehold, copyhold, and leasehold properties in Suffolk, Lincolnshire, or elsewhere in England, are settled on Ernest George Pretyman, for life, with remainder to his first and other sons successively according to seniority in tail male. The residue of his personal estate is to be laid out in the purchase of freehold or copyhold property in the county of Suffolk to go and be enjoyed with his other settled estate.
Five hundred Pounds was a lot of money back in 1889.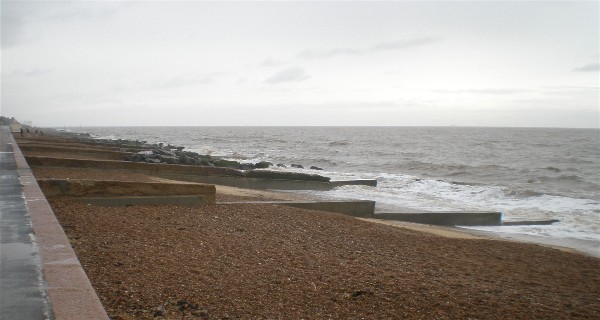 Breakwaters at Felixstowe - a system of sea defence originated by George Carr
George Carr was an extremely resourceful and skilled man and despite having no formal engineering qualifications, became an engineer of note by his own studies and endeavours. It was he who invented the first coastal defences against erosion in Felixstowe, which were known as 'shies' or 'breakwaters'. They can still be seen to this day around the coasts, walls of heavy timber pushing into the surf that are designed to catch shingle and break the power of the incoming waves. He came up with this system by careful study of the action of the tides.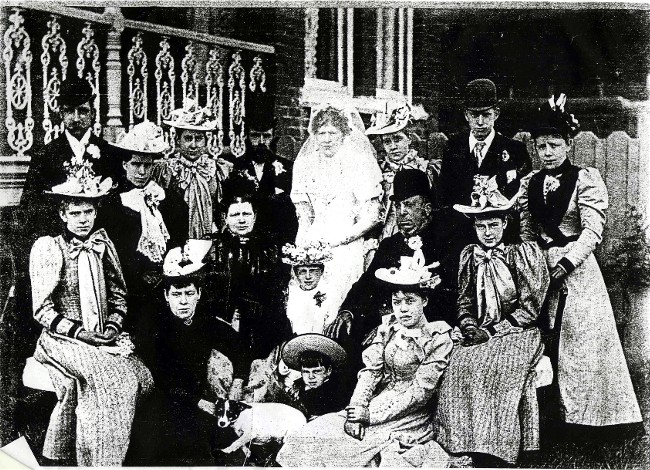 George Carr seated centre, his son also George behind standing and John Carr aged 5 seated front. This picture was taken at a family wedding around 1895
Another photograph from the family wedding, George Carr senior is standing top right
George was also responsible for building the first road down to the old docks in Felixstowe, which were constructed upon the instructions of Colonel Tomline. The good colonel also facilitated a railway link to Felixstowe which crossed the lands of his estate. All this paved the way for Felixstowe to become the 'Gateway to Europe' and the world that it is today.
Part of that old road still exists and to this day it is called Carr Road. George Carr was also one of the very first members of the Felixstowe and Walton local board, which was very influential in respect to the growth of Felixstowe. There is a memorial plaque in the Town Hall that acknowledges the contributions George Carr made to the development of the town.
It is a mark of the standing in which George Carr was held, that on one occasion when he was at home feeling poorly, Princess Alexandra, the then Princess of Wales and future Queen Alexandra, paid him a visit in order to cheer him up and speed along his recovery. It was a lovely gesture.
He was undoubtedly a man of his time. He was a hardworking family man, honest, diligent, dutiful and religious. In 1885, along with a group of like-minded people, he took on the lease of The Gospel Hall in Orwell Road, Felixstowe. His son, also called George, was amongst the other members of the group taking on the lease.
The family home was at the well-known Priory Farm in Felixstowe. In those days it was a lovely rural backwater but sadly the growth of Felixstowe has now overwhelmed it and the farm is no more. The farmhouse is still there but has been much altered over the years, and now sits beside a busy road with traffic whizzing by. It is far removed from the tranquil rural idyll of yesteryear.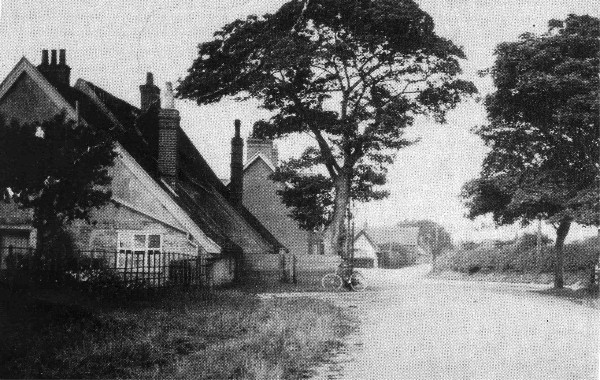 The Carr family home, Priory Farm, Felixstowe, at the turn of the 20th century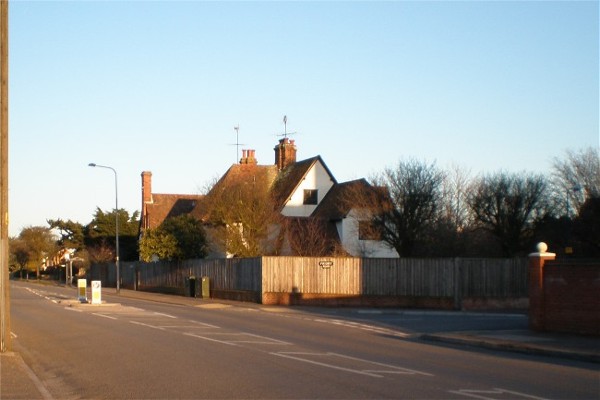 The Farmhouse of Priory Farm as it looks today - March 2010
George Carr died peacefully at Priory Farm on Friday 16th October 1908 and he was given a long and glowing obituary in the East Anglian Daily Times the following day. I have a letter in my possession addressed to George Carrs widow from his last employer, Earnest Pretyman, and it is evident the affection in which he was held. In one section of the letter he writes:
'Felixstowe owes much to him (George Carr) and he has saved the town many times by his services for sea defence. I learned much from him and shall always look back upon him as a beloved friend'.
He was a true self-made Victorian gentleman, the illiterate son of an agricultural labourer made good. He was the product of a dynamic age of 'can do' national pride, invention, social reform and Empire. It is an age whose spirit we have almost completely lost in the mediocrity of the modern world. Only the faintest echo can now be heard of those distant days, when a person felt genuinely proud to be British, but only if we listen hard enough.
Needless to say, I have a great admiration and respect for my great-great-great-grandfather, George Carr, the Engineer of Felixstowe, and local lad made good.
©Copyright - James of Glencarr