ROBERT CARR
The Wheelwright from Great Bealings in Suffolk
Robert Carr was born in the rural village of Great Bealings in the county of Suffolk in the year 1782. At this time, King George III sat on the throne of Great Britain and Ireland had not yet become an integral part of the kingdom. That did not occur until 1801. Robert has been recorded as holding the occupation of agricultural labourer during his life but he is also described as being a Wheelwright.
Somehow that rings more true to us as his brother was listed as a Carpenter and both those trades are closely related.

The baptism record in the Great Bealings Parish Register for Robert Carr 13th October 1782
Robert must have moved around for work as many workers did back then, for in 1809 he married a woman by the name of Lucy Woolnough in the village of Gosbeck, Suffolk. Lucy was born in 1789 and was a native of Gosbeck.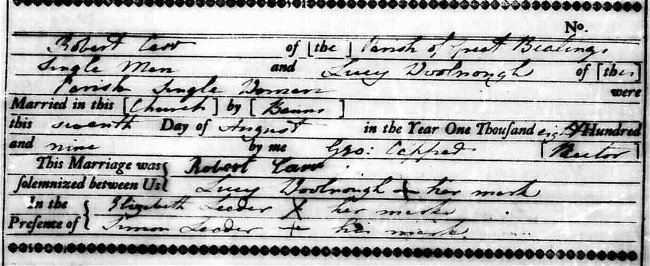 The marriage entry for Robert Carr and Lucy Woolnough 1809
There must have been a certain amount of scandal revolving around this marriage because at the date of the wedding, Lucy was about eight months pregnant. Their child, a daughter they called Ann, was born a month or so after the wedding. Around 1810 they moved to the village of Ufford, probably to escape wagging tongues.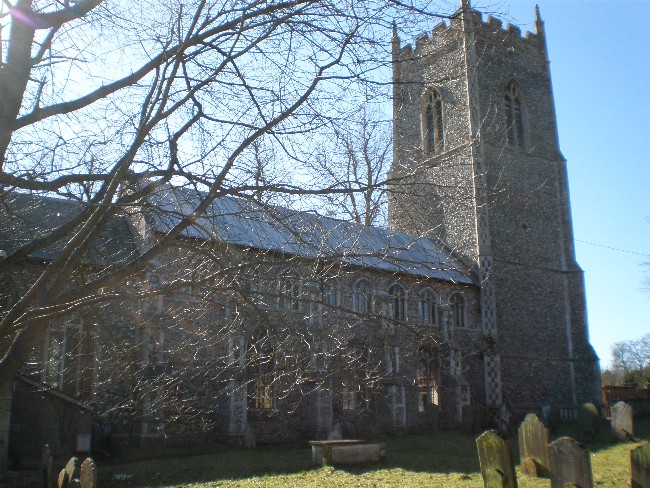 The Parish Church, Ufford, Suffolk
Ufford was an obvious place to relocate as the older brother of Robert, John, had moved to the village some years before and was already established there with his growing family. The paternal Carr line did not last long in Ufford, for Robert's surviving male children moved away from the village and Robert and his wife Lucy moved again to the rural hamlet of Foxhall with their young son Richard.
Robert passed away in Foxhall in 1858 at the age of 76, a grand old age to be sure in those days. His wife Lucy passed away in 1834 at the age of 45, leaving a young son of eight years of age. Richard was certainly still at home in Foxhall in 1841, as he appears on the census record but he appears to have relocated to London at some point after that date, as he appears again on a census record of 1881 as living in Walthamstowe.

Section of the Death Certificate of Robert Carr, giving the cause of death as Bronchial Pneumonia
The remaining Carr's in Ufford came to an end when the the last son of the third John Carr, who was called William, died unmarried and childless in 1867 at the age of 26. The first born son of John, also called John, had died at the age of 5 years in 1839. That family had quite a tragic history as of their eight known children, five died prematurely before they married. Two girls died in the same year of 1849 within three months of each other, at the ages of 21 years and 27 years. Their gravestone in the churchyard of the parish church in Ufford is below.
Their mother, Mary, was laid to rest beside them when she passed away at the very old age of 76 years, but only a faded marker stone indicates where she is buried. For the last years of her life, after the death of her husband, John, in 1863, she had been living with her youngest daughter, Elizabeth, and her family at Melton, a tiny hamlet that adjoins Ufford. Soon after her death, her daughter and her daughter's family moved away to the village of Bredfield, which probably explains why no gravestone was ever erected in Ufford. We could find no other legible Carr gravestones in Ufford, the one pictured below we had to renovate in order to read it.
When looking at old parish records, it can sometimes leave one with a heavy heart and a deep feeling of sadness at the trials and tribulations people of these times had to endure, all the more so when it involves ones own family and blood - no matter how distant. Death was a constant companion in the 18th and 19th centuries, and infant mortality was a dreadfully common reality. We are so very fortunate in these advanced modern times, in that we are not so easily visited by the kind of stinging grief and misery that afflicted our downtrodden forebears.
It is little wonder that the Christian religion and the promise of salvation formed such a central plank in their lives, for there was very rarely an Earthly paradise in which they could dwell. They had a simple but strong faith and I feel sure that helped to soften the cruel blows dealt by fate.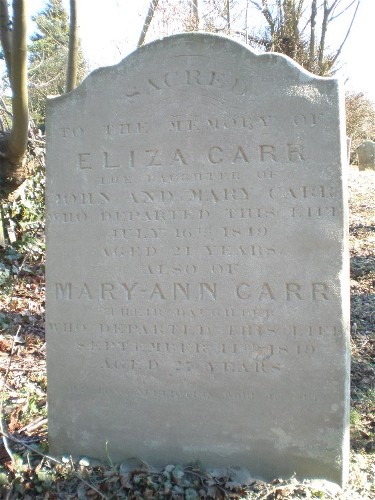 The gravestone of Eliza and Mary-Ann Carr in Ufford, Suffolk
Below are a few world events that were taking place around the time of Robert Carr's birth and his early life, it helps to give us a glimpse into his world.
In 1783, Britain finally recognised the independence of the United States of America, having lost political control of the country in 1776. The final conflict with America occurred in 1812 and was caused by a shipping dispute during the Napoleonic wars.
In 1789, four years after Roberts birth, the French Revolution took place and King Louis XVI was deposed. He was executed in 1793. Napoleon Bonaparte took control of France in 1799.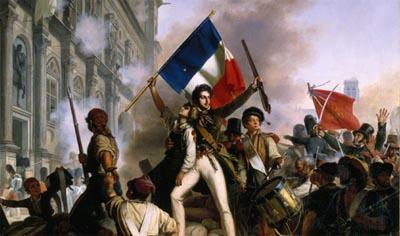 The French Revolution of 1789
In 1796, Catherine the Great of Russia died, having seen the growth and expansion of the Russian Empire. It was during her reign that the Crimea was added to Russia's territorial possessions.
In South Africa, Britain occupied the Cape of Good Hope in 1795, taking control from the Dutch. This was the beginning of a vast and expanding African empire that stretched from the Cape to Cairo.
Last but not least, in 1799 Income Tax was introduced into the UK and has remained the bane of honest working people ever since.
©Copyright - James of Glencarr