THE JAMES FAMILY TARTAN
Et In Arcadia Ego - Even In Arcadia I exist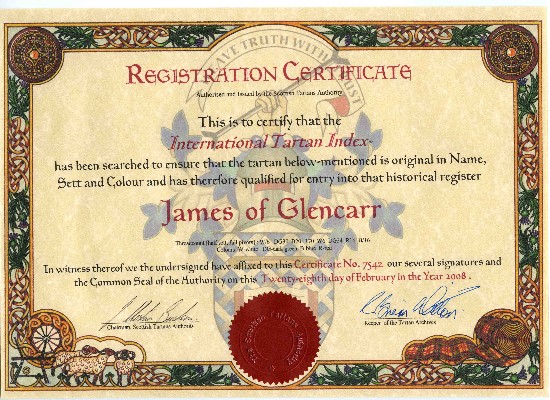 As a member of the Scottish Tartans Authority (STA) and having a great interest in all things tartan, I thought it was about time that our family had its own sett. With this thought in mind, back at the end of December 2007 I finally took the time to sit down and design a pattern. This involved a fair bit of redesign and amendment before I was satisfied with the final version.
The first bolt of cloth was woven in silk by a Scottish weaver and then registered with the STA in February 2008 and with the Scottish governments new official Scottish Register of Tartans when that went live. I felt that the most appropriate and obvious name for the tartan would be 'James of Glencarr', to make it specific to this family and to reflect the connection both to the James surname, and to the original Glencarr location of my maternal forebears.
The direct maternal descent of the family from the Kerrs has lent the red to the design, whilst the other colours show the paternal descent through the Celts of Wales (green) and Clan Gunn (blue and green). The colours also reflect those of Scotland itself (blue and white). The red white and blue in the design has also come to represent the colours of Russia, which is connected to the family by marriage.
This personal tartan is generally restricted to our extended family but we are more than happy for others who share the James surname to have it woven and to wear it, after all, a family cannot be more extended than that. Currently there is no specific James of Glencarr hunting tartan or dress tartan, but the hunting tartan of Clan Macpherson, to whom we have a connection, has been adopted as our informal daywear tartan.
On a practical level, this is also a much cheaper option for us as a 'special weave' tartan such as our new family sett is not cheap to have woven in small batches, especially in Scotland. However, it can be woven more reasonably in Canada, which also has a strong Highland and tartan tradition.
We are aware of two other registered James tartans, at least one of which is available to be worn by anybody with the surname of James. This tartan is simply called 'James', which we believe was the design of a private individual. The other tartan is called 'James of Wales'.
The 'James of Wales' tartan has been produced by a commercial concern. It is not an officially recognised Name Tartan and should not be taken as such. It has no heritage or tradition behind it and should be considered as nothing more than a commercial fashion tartan which has been produced to turn a profit.
Both the above tartans are also registered with the Scottish Tartans Authority and the new official government Scottish Register of Tartans. We believe there is also one other James tartan design in existence, but this may be a restricted tartan for the use of a particular James family.
We do not recognise any tartan that pretends to represent the Whole Name of James - There just isn't the clan, tradition or lineage to justify such a sweeping and fanciful claim.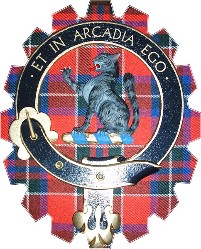 The 'James of Glencarr' tartan and badge
A clan or family badge will usually carry the crest of the clan chief within it. As we are a family with the surname of James we do not have a chief or heidsman, although of course we do have a direct maternal connection with the Border Family of Kerr.
However, due to our recent association with the Clan Macpherson and having given our allegiance to that clan in the ancient and traditional manner, our adopted central crest is now that of the Macpherson cat, a symbol shared with all those individual clans within the Clan Chattan Confederation.
The Latin motto around the belt section of our badge, "Et In Arcadia Ego," means 'Even in Arcadia I exist'. It is a reminder death is ever present and that there is an inevitable circle to life, regardless of wealth or position. It also serves as a reminder that status, land and possessions can just as easily be lost as gained. There are never any guarantees in life.
The belt that makes up the badge of our family is jet black, except for the buckle and tip of the belt which is usually blood red, but this is not shown in the illustration above which uses a standard belt and buckle.
The blood red of the belt buckle and at the tip of the belt were added as a reminder of the sorrow and pain surrounding the Lowland and Highland clearances, and of the life-blood that was bled from the families and clans during those dark times.
Doubtless our Border Reiver ancestors would be spinning in their graves at the thought of a border family wearing tartan, even if we do have less well documented ancient Highland connections too. We have simply followed a long established and popular trend for tartan amongst the border families of today, which began with that great Borderer, Sir Walter Scott, and the visit of King George IV to Edinburgh in 1822 .
Our new family tartan serves to add a little design flourish to our Welsh, Borders and Highland connections and provides a colourful fusion that links them under the umbrella of the modern pan-Celtic movement, which seeks to link all those of Celtic heritage and genealogy, and preserve the distinct Celtic cultural identity for future generations.
ęCopyright - James of Glencarr