BERWICK RANGERS FC
An English team in Scottish football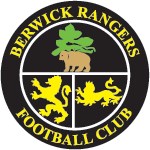 Berwick Rangers holds the unique distinction of being the only football club from England to play in the Scottish leagues. The reasons are historical and practical in terms of distances to travel for away games.
It is now universally accepted that the club was formed in 1884, not in 1881 as was previously believed. Indeed in 1981, the club celebrated its centenary until the real formation date was pretty much proved. To be honest though the three year difference is all a bit 'picky', as Berwick Rangers are one of the oldest clubs in both England and Scotland regardless.
In 1905 Berwick Rangers affiliated to the Scottish Football Association and entered the Scottish Border League the same year, followed by the Border Amateur League during 1908–09. Immediately following the First World War, the club joined the East of Scotland League, a new competition formed to replace the Borders League.
The club made more than a few attempts to join the North Northumberland League but were rebuffed. It was not until 1951 that they were admitted to Scottish League Division C (North & East). This third tier, made up largely of reserve sides, had been created in 1946 and was regionalised in 1949. The division was scrapped in 1955 and Berwick, along with the other non-reserve teams, were placed in an enlarged Division B (renamed Division Two the following season). Berwick Rangers have played in the Scottish Football League ever since.
Glory and Tribulation
Probably their greatest success on the field came in 1967, when they beat Rangers 1–0 in the Scottish Cup under the management of player manager Jock Wallace. It was the highlight of a memorable cup run, which had seen them break a club record in beating Vale of Leithen 8–1 in the first round. The result sent shockwaves around Scottish football and led to some of the Rangers players being de-facto forced to leave the club. This truly astounding match also saw the club's greatest home attendance of 13,365. Berwick were paired with Hibernian in the following round but lost 1–0 in front of a crowd of nearly 30,000. It was the end of a magnificent era in the clubs history but bleaker times were to follow.
During the 1970's there was little progress at the club until under the insightful management of Dave Smith, they won the Division Two title in 1979. It was a welcome piece of silverware for a very Spartan trophy cabinet. However this was to prove a false dawn, the club could not sustain the position of being in the upper tier of Scottish football and returned to the lower tiers. Worse was to come in 1985 when the club were forced to sell their home ground and lease it back. During the 1988–89 season they nearly found themselves bankrupt. During the 1991/92 season the club was locked out of its home ground as its financial woes multiplied, finding themselves having to play their games elsewhere.
During the 1990's the club had to weather one financial crisis after another, even reaching the brink of extinction in 1992 at a creditors meeting. It was an extremely tough time for this old established football club. As it turned out, the early 90's saw the worst economic downturn since the 1930's. That dire recession has of course been superseded today by the catastrophic economic collapse of 2008, which at the time of writing, 30th March 2013, shows no sign of coming to an end.
Fortunately Berwick Rangers are now on a much firmer financial footing and pushing forward. However, the club really needs to see a growth in young supporters from the local areas, who all too often seek reflected glory in the greener pastures of the English and Scottish Premier Leagues.
Bouncing Back
During 1994, the Supporters Club Committee, along with other good friends of the football club, including Berwick-upon-Tweed Borough Council, gave interest free loans to enable the lease of the ground to be bought back for £55,000. This success resulted in a new 25-year lease being granted to the Supporters' Club from March 1996. During 1996/97 all interest free loans were repaid.
Currently Berwick Rangers find themselves languishing in the 3rd division of Scottish football, far removed from the inflated player salaries and television money of the Scottish Premier League (SPL), with one notable exception. Following the shock demotion of the Glasgow heavyweights, Rangers, to the 3rd Division, it would once again bring together that famous club with their old tormentors, Berwick Rangers, only this time in competitive lower league football.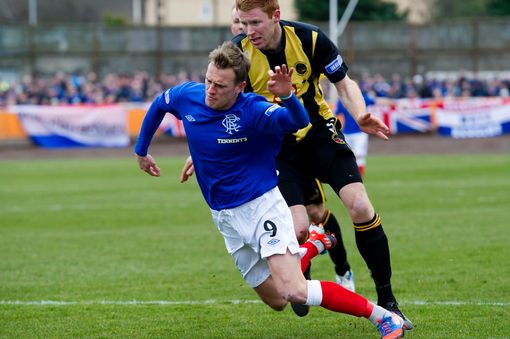 Berwick Rangers v Rangers 2012
On 26th August 2012, Rangers FC played their first ever league game in England when they faced Berwick Rangers at their home ground, Shielfield Park, in a repeat of their famous cup game of 1967. Berwick Rangers earned another sensational result, a 1–1 draw, with Fraser McLaren scoring in the 62nd minute of the game.
Of course the Rangers of 2012 were a severely depleted side, having lost their top players due to that harsh demotion from the SPL. It was a painful process watching the rush to the exit by Rangers players, like watching rats leaving a sinking ship. Despite that mass exodus of talent, to a Berwick Rangers fan it was a result of exquisite sweetness. To a long suffering but loyal Rangers fan, it was nothing short of a painful rubbing of salt into an old wound.
Glory Hunters
Over the years Berwick Rangers has seen its fortunes wax and wane, along with the numbers of supporters who attend home matches on a regular basis. It is an unfortunate fact of life in football that it does tend to attract 'glory hunters', so-called supporters who wish to bask in the reflected glory of a successful team on a roll, but who disappear like smoke when a club falls on hard times or has a run of bad form. Supporting a local team through thick and thin is a dying concept these days, and I strongly believe it is a product of the kind of vacuous celebrity culture we live in.
It is a rare club indeed that can maintain its support when the going gets tough, and perhaps the best example in modern football are the famous Scottish side, Rangers. Despite being demoted to the bottom tier of Scottish football due to financial problems, they still have the fanatical loyalty of fans who attend home matches that still return attendance figures bordering on 50,000. It is quite a thing to see such a team play at the ground of opponents who can usually only muster a home crowd of around 350 people in stadiums that struggle to hold more than 4,000. Needless to say these games are always by advanced ticket sale only.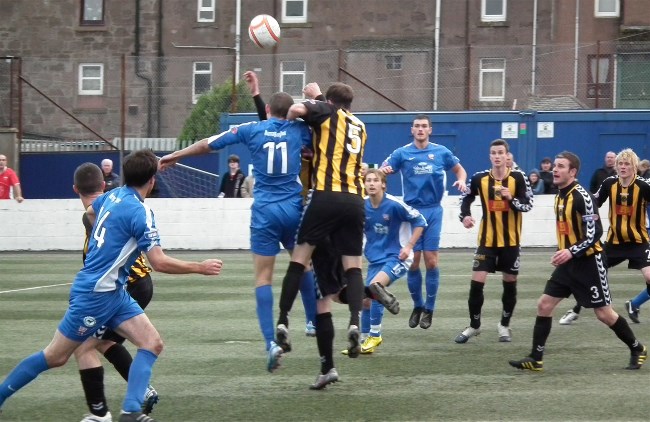 Montrose v Berwick Rangers 16th October 2010
Given a similar situation in the English Premier League, I wonder how much support clubs such as Manchester United, Arsenal and Chelsea would retain? It is almost guaranteed I would think, that the glory hunters would look elsewhere for another top flight team upon which they could hang their fickle hats?
Berwick has not of course been immune from the curse of the glory hunter. At the peak of success in 1979, the club were pulling in home crowds of around 1,500, nowadays the home attendances can be counted in the low hundreds. However, these fans are the real fans, the hard core of loyal supporters who will stick with the club no matter what, and feel proud to wear the gold and black stripes of the home shirt on a Saturday afternoon. Not for them the peacock-like posing in the colours of one of the top Premier League teams, who are often situated hundreds of miles away from their location. It is no exaggeration to say for example that there are more Manchester United supporters in London than there are in Manchester, a wonderful example of glory hunting in action.
The Club and the Fans
In November 2008, a lack of confidence on the field and in the future stability of the club, led to a consortium fronted by the Supporters' Club offering to purchase the majority shareholding of the chairman Robert Wilson and his fellow directors. Bill Parkin, chairman of the Supporters' Club said at the time: "The time is right for some changes to be made to the structure of the club. We really need to get fans involved at all levels, which is critical for small clubs like Berwick Rangers."
On Tuesday 27th January 2009, with the offer accepted and negotiations finally concluded, a new board of directors was elected with the Supporters' Club and the Supporters' Trust now fully represented. With that, the football club was about to embark on a new era both on and off the park, a footballing revolution had begun.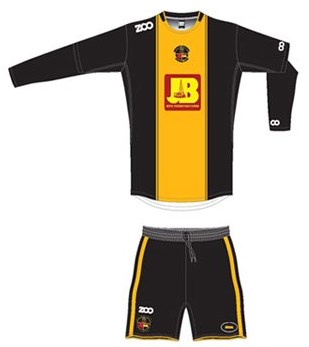 The Berwick Rangers kit 2013 - 2015
This is real football in action, football as it should be, where the real fans have a fair say in the running of their local football club. As a Berwick Rangers fan myself and a member of the Supporters Club, I take a great pride in what has been achieved so far.
No longer is Berwick Rangers the plaything of an owner or cabal of owners, whose whim is to purchase a football club in order to massage their own ego's and boast, strut and brag. Berwick is now truly a local club in which local people can get involved. It is a vital part of the town's identity and helps to define its uniqueness.
This to my mind is the future of football, not the outrageous mega salaries of the prancing prima donnas of the English and Scottish Premier Leagues, or the vast amounts of television money that is killing football and driving up costs to ridiculous levels.
Filthy Lucre Killing the 'Beautiful Game'
The wage demands of players at the top levels of football are becoming totally unrealistic and unsustainable. How can it be justified for some players to earn in excess of £275,000 per week! On top of that they are most likely earning just as much, and probably far more, in commercial endorsements. Football clubs today are becoming completely divorced from financial reality and are leaving their supporters far behind. In fact, do they actually care what their supporters think, now that football is simply a business like any other corporate concern?
Astonishingly, business analysts Deloitte showed in their most recent figures that the top flight's total wage bill surpassed £1.3billion in 2008/09. With those kind of figures, is it any wonder that the average match day ticket price for top flight football is now around £101.67?
With an increase of around £132million from 2007/08, the current figure in 2012/13 is likely closer to two billion. Even squad players are minted, despite their limited appearances: the average Premier League salary was £21,600 a week - £1.1million a year – four seasons ago, what on Earth is it now?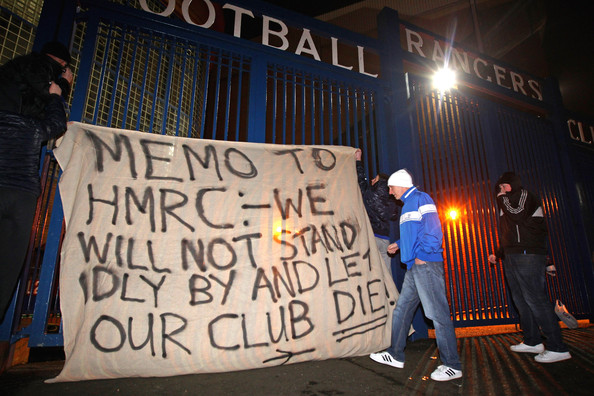 Rangers in Administration - A warning to other top level clubs
Rangers FC should serve as a sobering lesson of what can happen when capitalism and player greed takes over football. They will not be the last top flight club to find themselves on the edge of extinction, due in large part to massive wage inflation and player avarice. It really has to stop for the sake of the 'beautiful game' and the pockets of the working class supporters who love their football.
As a supporter of Berwick Rangers, and as a football fan totally disillusioned at the way the modern game has gone, I would urge everybody to show support to the teams of the lower divisions. This is where the real football is played and for realistic wages. Most importantly though, the cost of attending a lower league match is affordable, especially for a family man.
At the time of writing, it costs £10 to get into Berwick Rangers on the day, with a season ticket running out at £140. That is a good day out for a family at a price many can afford. Compare that to Premier League teams who will often charge in excess of £100 on match day, and around £1,500 for a season ticket. In the current dire economic climate, how many people can afford to pay that?
If you would like to support lower league football and the sporting reality it represents, then as an avid fan myself, I can think of no better team than Berwick Rangers. A link to the club can be found on our Links Page.