CLAN GUNN
One of the most northerly clans of Scotland
The Clan Gunn claim descent from Vikings. Their ancestral territory being located in Caithness, close to the Orkney Islands and well within the sphere of the Old Norse Vikings, would seem to substantiate this claim.
The Clan Gunn trace their ancestry back to 'Olaf the Black', who died in 1237. There is also an alternative ancestor, a Viking pirate who settled at Ulbster in Caithness. Either way, the Norse origins of the Clan are clear.
The surname 'Gunn', derived from the Norse word 'Gunni' means 'Battle', a very apt name for Clan Gunn, as they were always ready for a fight and had a fearsome reputation. They were regularly feuding with their Clan neighbours the MacKays and the Keiths.
It is interesting to note that the tartans of the Gunn's and the MacKay's are similar in design, denoting their close proximity to each other.
Two bitter battles were fought with Clan Keith, one in 1426 and another in 1438. These battles resulted in great losses for both Clans. This feuding only came to an end in the 16th century, when Keith of Ackergil, his son and 2 of his Clansmen were killed at Drummoy in Sutherland.
The modern lineage and Sept families stem from George Gunn, the Crowner of Caithness, born in the first decade of the 15th century and slain with several of his clansmen at the Chapel of St. Tears, near Ackergil, in July 1478.
The Clan Gunn were decimated during the Highland Clearances. Their land fell within that of the Duke and Duchess of Sutherland, and they were cleared by that despicable aristocratic couple's Lowland Factor, James Loch. He cleared the people of Clan Gunn from their ancestral home of the Strath of Kildonan.
They were forced to the coastal fringe to try and scratch a living from fishing for herring. Most ended up in Canada, at least those that survived the journey in the disease-ridden emigrant ships.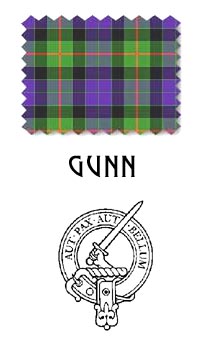 The badge and tartan of Clan Gunn