SAXON APC
Britains finest 'troop taxi'
During my military service as a Movement Controller in the Royal Corps of Transport (RCT), I was mainly utilizing the ubiquitous Land Rover, sometimes the 109 LWB model or the crude and cramped air portable SWB version. Luxury motoring it certainly wasn't.
Luckily however, I wasn't always confined to the good old 'Landie' and did on occasion get to play with other more interesting military vehicles. My favourite of them all has to be the Saxon Armoured Personnel Carrier (APC). This vehicle first entered service with mechanised infantry battalions based in Germany during 1983.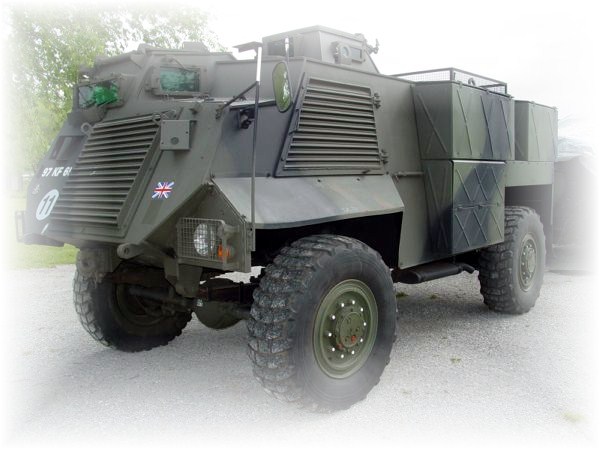 The Saxon APC
They were withdrawn from active service in 2009 but the army does retain some 147 vehicles in storage at the time of writing. Doubtless these will be sold off over time, especially given the British government's determination to impose even greater cuts in army numbers. There is a planned reduction of strength in the offing, down to around 82,000 from where it stands currently at 102,000.
That to my mind is astoundingly short sighted.
Defence Cuts
Technically speaking, to be called an army there must be at least 100,000 personnel in the organization, so in effect, the UK will no longer possess an army as such but more of a self-defence force. It appears that 5 Rifles, The Coldstream Guards, 3 Mercian and 2 Royal Regiment of Fusiliers are among those likely to be axed in the impending defence cuts.
It is an appalling decimation of the British Army by clueless and intellectually challenged career politicians. All these cuts are in the pipeline as our current Foreign Secretary at the time of writing (12th June 2012) is twatting-on about possible military intervention in Syria. You couldn't make it up, the man is delusional. All these outrageous cuts are in order to save a mere £97 million per year. That is a fraction of the current vast and bloated foreign aid budget.
To our politicians, giving foreign aid to dodgy overseas regimes, whose leaders have a penchant for diverting the money into their personal Swiss bank accounts, appears to be far more important than the defence of the realm.
Back to the Saxon APC
Anyway I am digressing from the original intent of this article and shall get back on topic, despite my anger at the cretin-like shenanigans of the UK government over defence matters. The Saxon APC was an absolute hoot to drive, but not so much to ride in for the troops in the back who could be thrown around over rough ground. A trip in the back of a Saxon could be akin to being spun in a blender or agitated in a cocktail shaker.
The vehicle was a four wheeled 4X4 that weighed in at 10.6 tonnes. It is powered by a Bedford 500 6-cyl diesel engine of 164hp (122 kW) coupled to an automatic gearbox, and could carry ten soldiers in not a great deal of comfort. It had an operational range of 320 miles and a top speed of 60mph, which is pretty impressive for this kind of vehicle. For protection it carried a 7.62 mm MG.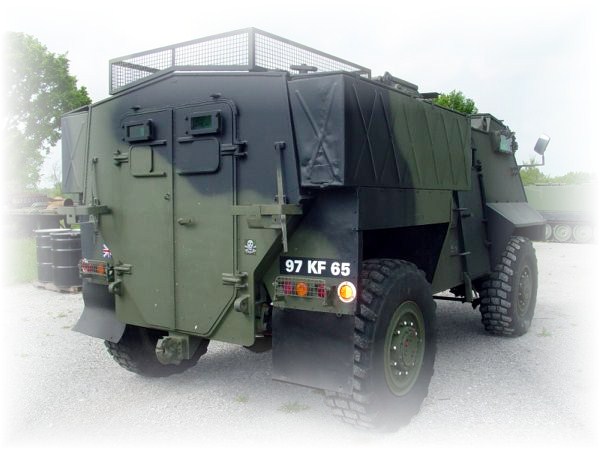 The Saxon APC
When used on the public highway, certainly in the UK, the vehicle had to be driven with the aid of a commander. He would be standing or sitting in the vehicle at the hatchway, with the top half of his body clear of it, ensuring that accidents with other road users were avoided. When driving, visibility was extremely poor, with only three letterbox type slits available for forward and side vision.
Obviously under battlefield conditions, the top hatch was battened down and the commander was inside the vehicle. Getting into the driver's seat was an interesting experience. It was necessary to grab hold of an overhead rail with both hands, lift your knees up towards your chest, and then slide over and into the seat, at least in the version I drove.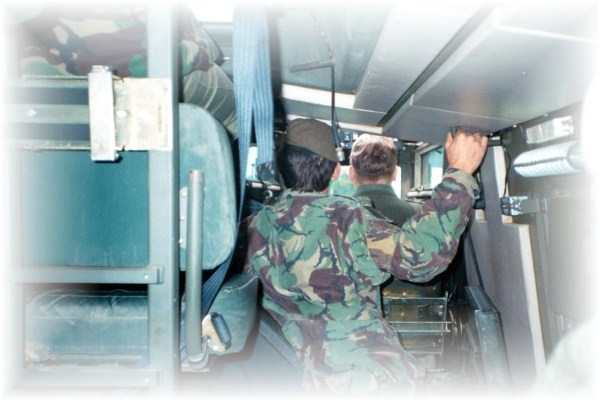 Driving the Saxon APC
The Saxon APC was designed as a lightly armoured 'troop taxi' that could get soldiers into action fast. It afforded protection against small arms fire and shell splinters, but would not withstand a hit from anti-vehicle weapons. It would not have performed well against 'Terry Taliban's' lethal roadside bombs in Afghanistan.
The vehicle shared many parts with commercial trucks which helped to make it a very cost effective piece of kit too. Being wheeled, it was certainly cheaper and easier to maintain than a tracked vehicle and in my experience, was extremely effective off-road. All in all, a nice piece of kit for its time but now sadly out-dated.
©Copyright - James of Glencarr