THOMAS JAMES
The first Parish Clerk of St Cuthbert's Church, Hebron, Northumberland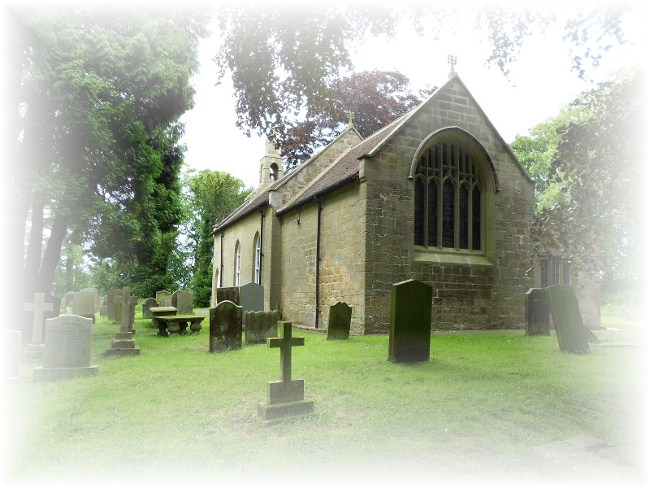 St Cuthbert's Church, Hebron, Northumberland
Thomas James of Hebron is our oldest documented and proven direct paternal ancestor to date, and he is my 8th paternal great-grandfather. We share the same Y-Chromosome, that vital DNA sequence which passes unchanging from father to son. Thomas was born in 1638 during the reign of King Charles I and lived through the turbulent and often very violent times of the English Civil War.
At this point in time I do not know where he was born but as far as I am aware it wasn't in Hebron. Parish records only begin there in 1680, a good twenty years after the restoration of the monarchy. Prior to that date, the affairs of Hebron were dealt with from the neighbouring parish of Bothal and Thomas wasn't born there either according to the records. Hebron today is a very small village, almost a hamlet and it was never anything other than that in the past.
The Civil War broke out in 1642 and until around 1644, Northumberland lay in Royalist hands. It was to be a long and bloody war as civil wars tend to be. It would not finally come to an end until 3rd September 1651 with the decisive Battle of Worcester. From then on, Oliver Cromwell ruled the republican Commonwealth and re-established British might and power. That said, Cromwell is not remembered fondly in Catholic Ireland due to the actions taken by his forces there.
At wars end Thomas James would have been a 13 year old boy, and in those days well old enough to go out and earn a living or be apprenticed. He was appointed as Parish Clerk of St Cuthbert's Church in Hebron sometime during 1682 at the age of 44, and served in that role until his death at the age of 80 in 1718. I have no idea as yet how Thomas earned his living prior to becoming the Parish Clerk in Hebron, but I hope to find out in due course.
From the evidence I have at the moment it appears that Thomas married in 1670 to an Elizabeth Clark who was born in 1640. It was certainly a pretty late marriage, he being 32 and she 30. I can only find two children born to them, Thomas (my 7th great-grandfather) in 1683 and Elizabeth in 1685. From the Christian names of the children it would rather suggest that they are the first born, but why the thirteen year gap from their marriage is a complete mystery, unless there were prior children who did not survive and I have not yet found the records?
In order to take up the position of Parish Clark Thomas would certainly have been literate and respectable. The post at that time was an ecclesiastical one and he would have taken Minor Orders. He would have had a varied role in the church, not just restricted to record keeping.
In fact William Laud, the Archbishop of Canterbury 1633 – 1645, was so concerned about those in minor orders intruding into matters that appertained to those who had taken major Holy Orders, that he cracked down on Parish Clerks, even to the extent of depriving them of duties that were theirs by right of canon law.
The Parish Clerk would have been appointed by the local Minister and I am hoping to trace a record of this appointment via the archives of the Church of England in the near future. If I am lucky, such information may also avail me of his exact place of birth.
The James family were Parish Clerks in Hebron for over 200 years, with the last one leaving the post in 1888. It is probably a unique event for a family to hold that position for so long. The Thomas James I write about here was the first of that long line and he is buried in the churchyard at Hebron. His stone is right by the entrance to the church and that area forms a family plot for the James clan.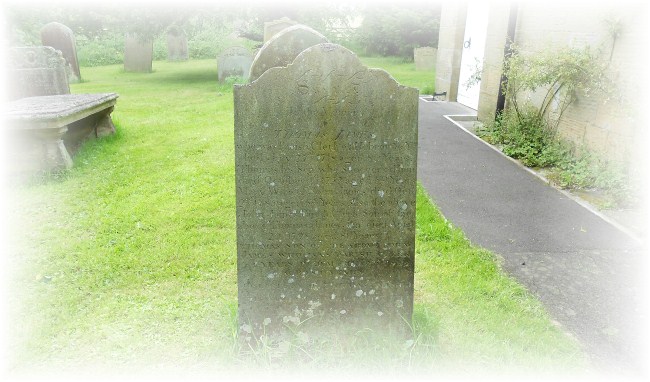 The last resting place of Thomas James 1638 - 1718, Hebron, Northumberland
It was a deeply poignant and spiritual moment for me when I first stood by the grave of Thomas James. We were only separated by six feet of earth, a cultural chasm and three hundred turbulent years of British history. The family has been through so much since his time and taken many often painful paths to the present day. I wonder what he would have made of it all and how surprised he might have been at the sheer number of his direct descendants?
©Copyright - James of Glencarr