CECIL JOHN RHODES
Visionary empire builder and founder of a nation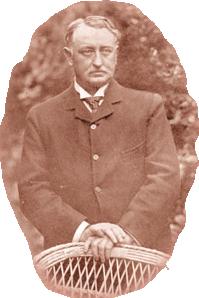 Cecil John Rhodes, a colossus of his age, was born on the 5th July 1853 in Bishops Stortford, England, one of six sons of a clergyman. He suffered from ill health during his youth and was advised that a warm, drier climate would be beneficial to his constitution. With this in mind, he decided to go to his brother in South Africa and investigate the opportunities which that country offered.
He and his brother began by farming cotton in Natal in 1870. This venture did not prove successful and along with his brother, he joined the hunt for diamonds and became a prospector. By the time he had reached 19 years of age he had made a substantial fortune. During his time in South Africa, his health had improved to the point that he was able to return to the UK in 1873 and pursue a degree at Oxford University.
Due to his frequent trips back to South Africa, he did not receive his degree until 1881. In addition to furthering his academic qualifications, he also founded the formidable and world famous De Beers Mining Company, along with his former business rival, Barney Barnato.
In 1881 he entered the Cape Colony Parliament, he was to hold a seat in this Parliament for the rest of his life, becoming Prime Minister in 1890. However, he was implicated in the Jameson Raid of 1896, in which Dr Starr Jameson, a friend of Rhodes, attempted to overthrow the Afrikaaner Republic of the Transvaal. The raid failed in its aims and although Rhodes was acquitted of any responsibility for the raid, he was forced to resign his position as Prime Minister of the Cape Colony.
In 1889 Rhodes incorporated the British South Africa Company and obtained a Royal Charter to explore and exploit the territory to the north of the Limpopo River, these territories would eventually become Southern and Northern Rhodesia, named after Rhodes himself. Later still, Northern Rhodesia would become Zambia, whilst Southern Rhodesia simply became known as Rhodesia.
As a dedicated empire builder, he harboured a dream of establishing a railway that would run from Cape Town to Cairo that would glue together the sprawling British Empire in Africa. It was a dream he was unable to realize during his tragically short lifetime.
His drive and ambition was the foundation of what became modern Rhodesia. It was a thrusting, ambitious, first world country on a third world continent. Rhodesia endured until 1980 when isolated and alone, and betrayed by its old friend South Africa, it fell into violent despotism under the black majority rule government of Robert Mugabe and his ZANU PF party.
During the Boer War of 1899 - 1902, Rhodes was prominent in the defense of Kimberly and helped to hold the Boer forces at bay. He had desperately wished to see an end to the war but unfortunately, his fragile health finally caught up with him, and he died at Cape Town on the 26th March 1902, before the end of hostilities.
Cecil John Rhodes, Empire builder and great visionary, never married. In his Will, he left the bulk of his considerable fortune, some six million Pounds, a vast sum in those days, to the establishment of his greatest legacy, the Rhodes Scholarships, which continue to this day. These scholarships reveal the true farsightedness of one of the greatest men of the 19th century.
In 1996 the BBC made a historical drama series called 'Rhodes', about the life and times of the great man. Predictably, it was heavily biased and slanted in its approach to the subject matter. Whilst the 'Scramble for Africa' which took place in the 19th century is a very controversial topic, it is not perhaps fair to judge events of that era from the politically correct perspective of the 20th century, as the BBC seemed so to do.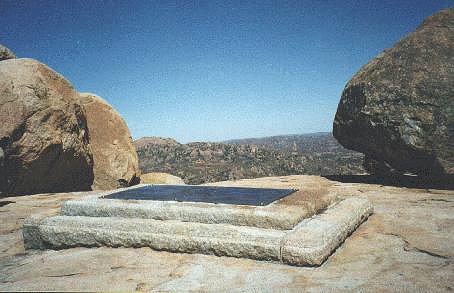 The burial place of Cecil John Rhodes, Matapos, Rhodesia (now Zimbabwe)
There is a museum in Cecil John Rhodes home town of Bishops Stortford, Hertfordshire, UK which can be visited, the address is below:
The Rhodes Centre
South Road
Bishops Stortford
Hertfordshire
CM23 3JG
United Kingdom
Tel: +44 (0)1279 651746
ęCopyright - James of Glencarr