KERSHOPEFOOT
A Truce Day meeting place on the Anglo-Scottish border
Kershopefoot is located about seven miles south of Langholm and sits on the English bank of the Liddel Water. It holds a very special place in the often violent story of the Anglo-Scottish Border.
Here was Tourneyholme, one of the meeting places for the English and Scottish March Wardens, where both sides could peaceably interact during the tumultuous and lawless time of the Border Reivers. Traditionally, the English Warden would ask leave to cross to the Scottish side of the border with his retinue under an agreed truce. There were usually quite a few riders from both sides of the border present at these occasions.
At such Truce Days, disputes could be settled, problems aired and prisoners exchanged but occasionally things could go very wrong indeed. A mixture of weapons, alcohol, provocation and argument could very soon become deadly, despite the fact it was accepted practice that on a Truce Day, no Scot or Englishman was to be harmed. Heavily armed wild men in a wild country, often inebriated, were never going to be a good bet for peaceful interaction.
Surprisingly, these Truce Days were actually very well attended by traders and sellers who did good business, and doubtless by a few 'ladies of the night' who also turned a shilling or two. Good trading was to be had by one and all, just so long as matters did not get too fractious and violent.
On one particular Truce Day at Tourneyholme, fighting broke out and the Scottish March Warden, Sir Robert Kerr, was murdered. The culprits were three Englishmen named Lilburn, Starhead and Heron the Bastard of Ford. Lilburn was quickly apprehended, and Heron's legitimate brother was handed over to answer for the Bastard. Starhead had fled to York but the Kerrs followed him south and killed him, bringing back his head for public display.
It began a feud between the Kerrs and the Herons that was still ongoing some sixty years later. In another feud with the Scotts, the Kerrs of Cessford left one Scott family Headman in a pool of blood, after stabbing him violently to death on the High Street in Edinburgh. Taking deep revenge for family slights was a bloody trademark of the borders.
Kinmont Willie
Kershopefoot is most famous for the capture of William Armstrong of Kinmont. He is better known to Border folklore as 'Kinmont Willie'. He was a notorious and successful Scottish Reiver and a longtime thorn in the side of the English. To the chagrin of the English he was in attendance at a Truce Day in 1596 and as such, and by established tradition, had protection from capture by the English.
After the end of proceedings at the Truce Day and still under the protection of safe conduct, he was riding home along the banks of the Liddle Water. He was seen by a group of English riders who surrounded him on Scottish soil and took him prisoner. It was an illegal act, contrary to all 'Border Law' but the English riders could not ignore such a tempting target.
Kinmont Willie was taken to Carlisle castle and held prisoner. It did not take long for news of Willies capture to reach the ears of Walter Scott of Buccleuch, otherwise known to history as the 'Bold Buccleuch', the Keeper of Liddesdale. It was on his land that the arrest of Kinmont Willie had taken place and he was not best pleased.
Buccleuch protested to the English March Warden and demanded the release of his prisoner. His demand was ignored and wafted aside. Incensed, he gathered together a hardy band of Reivers and set out in atrocious weather conditions to effect a rescue of Kinmont Willie.
Despite a few minor disasters, such as their scaling ladders being too short for the walls of the castle, they managed to break in via a postern door. With some inside help from English Reivers they located Willie, broke him free and had him over the Scottish border before the castle garrison had woken up. The Bold Buccleuch had literally caught them napping. Willie was never recaptured and reputedly, the old rogue died peacefully in his bed sometime between 1608 - 1611.
Quieter Times
At one time Kershopefoot had its own railway station which sat beside the Waverly Line, named after a novel by Sir Walter Scott. This line ran through the beautiful border countryside from Edinburgh to Carlisle and helped to knit the border communities together.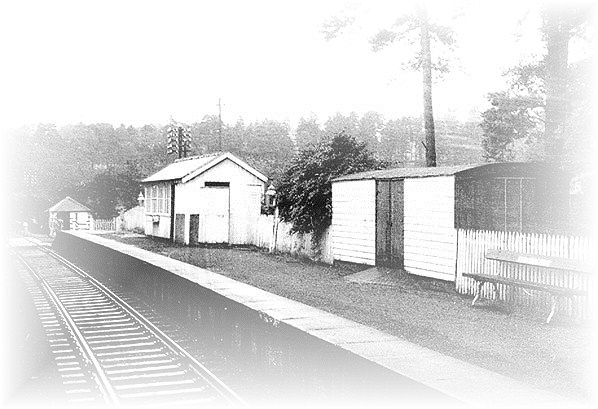 The old station at Kershopefoot
The line was fully opened in 1862 but closed, to much local opposition and active protest, in 1969, a victim of the infamous axe of Dr Beeching. It was yet another myopic round of spending cuts by a short termist government, totally ignoring the vital needs of rural communities.
Today Kershopefoot is an extremely placid and remote little backwater in the English county of Cumbria. On the English side of the border there are vast, regimented commercial forests producing prodigious amounts of timber. If one was unaware of its previous bloody history of raiding, mayhem and murder, or indeed its place on the railway network, one might assume that history had pretty much passed it by.
Looks can be deceptive though and in the three centuries prior to 1603, this would definitely not have been a secure or peaceful place to live. I took the three images above on a visit to Kershopefoot on 7th July 2012.
ęCopyright - James of Glencarr